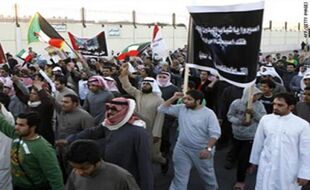 The 2011 Emirates protests were protests in the United Emirates held by various groups/factions.
Background
These protests form part of what is called the Arab Spring. It was sparked by the first protests that occurred in Tunisia on 18 December 2010 following Mohamed Bouazizi's self-immolation in protest of police corruption and ill treatment. With the success of the protests in Tunisia, a wave of unrest struck Algeria, Jordan, Egypt, and Yemen, then spread to other countries.
Protests in the Emirates
They began on March 4, 2011 with people protesting in Dubai against conservative president Abdullah Al Ghrawi's plans to get rid of the large social welfare programs in use for many decades. Soon protests broke out in Abu Dhabi, Manama and Doha. On March 7, there was a rally in Salalah, in support of Al Ghrawi. These people were against the liberalized northerners, who were supposedly corrupted by Western ideals and false promises. In Dubai, there was a clash between pro and anti-Al Ghrawi protesters; the antis outnumbered the pro's by about 5:1. On March 9 Al Ghrawi called in the Army and placed a curfew. Soon the government began resigning and the Royal Family openly attacked the president. On Friday March 11 there was a "day of rage", where 18,000 people gathered in King Hussein Square to protest; that day much of the former government joined the rally, as did the King's brother. Soon protesters began to storm the Presidential House. Al Ghrawi soon got into a helicopter and left the Presidential compound in Dubai. AMTACT reports later showed that he left for Yemen and is in hiding.
Aftermath
On March 11 Mohamed Kerkani, who was president before Al Ghrawi, was named interim president (he was later elected into office in mid-August). The King re-appointed the previous cabinet and undid the constitutional changes begun by Al Ghrawi.
Ad blocker interference detected!
Wikia is a free-to-use site that makes money from advertising. We have a modified experience for viewers using ad blockers

Wikia is not accessible if you've made further modifications. Remove the custom ad blocker rule(s) and the page will load as expected.