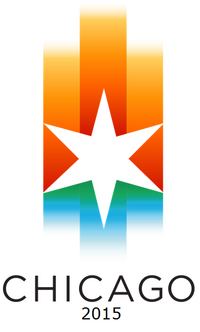 The 2015 Chicago International Summit  is an upcoming international conference meeting being hosted by the Wabash Confederation in Chicago. The Wabash Federal Council originally called for a regional conference between the nations of North America, but on December 2014 the Council wanted to reestablished relations with nations globally. It will be held at Chicago's Sears Tower in the upper level's conference rooms.
President Louis Austin, representing the Confederation has set several issues to be discussed at the meeting;
Invited praticipants & leaders
Venues, performances, celebrations
Chicago will host Wabash's cultural heritage to the world, displaying its cultural history. Work on the National Memorial Mound begun late December to display the Native American, English and French impact on the nation. It will display an Englishmen, Native American and a French fur trader holding their hands to their respected deities and swearing the Wabash Oath.
Within downtown Chicago, French representatives will parade in formal costumes ranging from the pioneer to the laborer, Native Americans will parade on horseback (who adapted to the tradition after Europeans brought horses to North America) and a running of buffalo will commence. Traditional foods will be displayed, such as Indiana's signatureSugar cream pie, the Reuben sandwich, tater tot casserole, Chicago-style pizza and an abundance of the nations finest sweet corn.
During the day, the Wabash Armed Forces will display their military technology and individual force in a parade down Wacker Drive. Soldiers will cross the Chicago River three times to symbolize the three founders of the nation. Governments of each Department will walk in the parade. Soldiers, participants, onlookers will be assembled at the banks of Lake Michigan at Grant Park where traditional songs such as Back Home Again in Indiana and On the Banks of the Wabash, Far Away will be sung, primarily by the crowd. Several traveling carnivals and concert stages will be set up in the city, singers from across the world are invited to preform in the International Music Exposition, displaying participating nations most popular artists. Wabash performers include mostly urban singers, Eminem, Drake, Kanye West, Kid Cudi and special renditions of Michael Jackson. The Wabash Naval Defense Force will display fireworks from ships and barges from Michigan Lake.