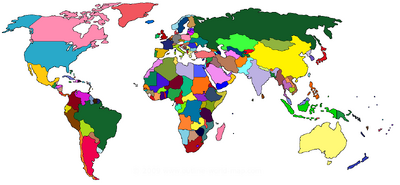 This is a game set in 2020. 
Rules
There are 4 turns in a year. (Spring, summer, fall, winter/March, June, September, December)
Don't be implausible.
No aliens allowed! (i.e. No aliens helping San Marino to dominate the world)
Edit the map using MS Paint, and save as a .jpeg or .png.
If you post an update to the timeline, update the map as well.
If you can't update the map, request someone else to update it for you.
Please keep the borders intact. (re-add the borders if you change them)
March 2020
Tensions reerupt between India and Pakistan over control of the Kashmir region.
Ad blocker interference detected!
Wikia is a free-to-use site that makes money from advertising. We have a modified experience for viewers using ad blockers

Wikia is not accessible if you've made further modifications. Remove the custom ad blocker rule(s) and the page will load as expected.