4chanistan Island Police
Talk

0
10,413pages on
this wiki
The 4chanistan Island Police Force is the island's law enforcement agency and department. The island police currently have ten officers. 4chanistan police are trained by 4chanistan's military commander. Four of the current officers had previous law enforcement training. The 4chanistan Island Police are led by two lead officers, who have the most experience and training. 4chanistan Island police are not required to wear an official uniform but must carry a utility and gun belt, so appropriate clothing is recommended.
Matthew Kendall: One of two Lead Officers in the Island Police Force. Kendall specializes as a K-9 Unit.
KittyKaiti: The second of two Lead Officers.
Jimbob
Cr33per
Boogeyman
Harold Livingston
Bobby the Bobby
Christopher Mansfield
Woll Smoth
Patrick "They See Me Patrollin', They Hatin'" Connor
4chanistan Island Police perform all of the same duties as a general police officer would in many countries. 4chanistan Island police additionally must aid in several other important duties. Outside of patrolling the island, ensuring safety, providing security for the hotel and Tourist Zone and fighting criminal activities, island police take on the duties of Immigration and Customs, border and island defense and security, security clearances for visitation, animal control, combatting obnoxious drug addicts and narcotics abusers and working alongside the military in intelligence and /i/nsurgency operations. Lead Officers specifically, review and sign clearances for visitation or immigration to the island. They as well perform eviction and deportation duties. All officers are trained use of six different types of weapons ranging in pistols, submachine guns, assault rifles, support gunner machine guns, sniper rifles and shotguns. Island police may use lethal force whenever necessary to take down an uncooperative suspect, following a "No-Retards Policy", although most officers prefer using non-lethal weapons to bring down a suspect unless necessary to kill. Many narcotics are legal on the island, leaving police with the duty of having to control any outbursts of intoxicated persons.
No-Retards Policy: 4chanistan does not tolerate criminal activity, especially activities committed by people classified as morons or blatantly ignorant persons. No-Retards Policy allows officers shoot at uncooperative suspects.
Sexual Predator Extermination: Pedophiles are required to be shot and killed.
Profiling: Immigration officers must profile all visitors and immigrants by all forms to ensure the maximum security of island.
Narc Rule: While all narcotics are legal in the Drug Zone except Marijuana (which is legal island wide), drug addicts and abusers can be arrested and deported for acting out of line.
Equipment, Vehicles & Weaponry
Edit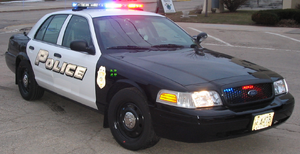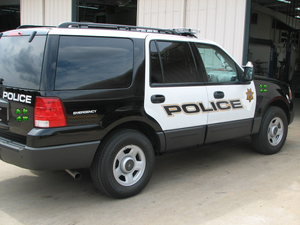 4chanistan police have access to an array of vehicles, weapons and equipment.
4chanistan Police Vehicle Inventory

| Name | Type | Number in service | Origin | Notes |
| --- | --- | --- | --- | --- |
| Chevrolet Impala | Police Interceptor | 2 | Union of Everett | One 2003 unmarked silver and one 2005 marked black and white |
| Ford Crown Victoria | Police Cruiser | 2 | Union of Everett | Two 2009 marked black and white |
| Ford Expedition | Police SUV | 1 | Union of Everett | One 2007 black, marked K-9 Unit |
4chanistan Police Weapons & Equipment Inventory

| Name | Type | Caliber | Origin | Notes |
| --- | --- | --- | --- | --- |
| TAR-21 | Assault Rifle | 5.56 x 45 | Israel | |
| AM-777 | Assault Rifle | 5.56 x 45 / 7.62 x 39 | Union of Everett | |
| AM-9 | Submachine Gun | 10.5 x 30 | Union of Everett | |
| UMP | Sub-Machine Gun | .45 ACP | Franco-Germany | |
| M82A1 | Anti-Material Rifle | .50 BMG | Union of Everett | |
| AM-250 | Support Machine Gun | .416 cal | Union of Everett | |
| AA-12 | Automatic Shotgun | 12 Gauge | Union of Everett | |
| Mossberg 500 | Tactical Shotgun | 12 Gauge | Union of Everett | |
| AM-18 | Semi/Full Automatic | 9 x 19 / 4.6 x 19 | Union of Everett | |
| M1911 | Semi Automatic | .45 ACP | Union of Everett | |
| Glock 18 | Fully Automatic | 9 x 19 | Austria | |
| Beretta M92/M96 | Semi Automatic | 9 x 19 / .40 S&W | Italy | |
| M32 MGL | Multiple Grenade Launcher | 40mm Grenades | South Africa | |
| M203 | Grenade Launcher | 40mm Grenade | United States | |
| Gate Crasher | Breach Weapon | High Explosive Wire | United Kingdom | |
| Taser | Electroshock Weapon | Taser Wire Prong Cartridge | Allied States | |