Administrative Draguan Territory of Leade Island
Native name: Akoni Kapena
Nickname: Leade Island


Map of Leade Island
Geography
Location
Southeast Pacific
Coordinates
4°30'2.14"N, 172°34'27.44"O
Total islands
15
Major islands
Leade Island
Highest point
Casabonne Peak ()
Government
Capital city
Huntington Bay
Largest city
Huntington Bay (pop. 53,284)
Governor
Denice Langley
Administrator
Daisuke Ueda
Demographics
Demonym
Leadan
Population
187,946 (as of 2012)
Ethnic groups
Dutch, American, Japanese, Afrikaners
The Administrative Draguan Territory of Leade Island (alternatively: Leade Island) is an island in the Southeast Pacific, between the Marshall Islands and the islands of Tarawa, Kiribati. The island measures approximately 31 km by 29, and is mainly covered by meadows, marshes and tropical forests. Small cliffs and broad beaches cover the coastline of the island, along with a lagoon in the South. The island is divided in four municipalities, with Huntington Bay as the island's capital and largest city.
History
Leade Island, or Akoni Kapena in the Akonii language, was colonized by the Polynesians around 4.000 years ago, and proved to be a perfect location to settle. The native people soon became an offshoot group and developed an own culture primarily centered around agriculture. Casabonne Peak is also marked as a sacred place by the native Akonii.
Akoni Kapena was discovered by Thomas Gilbert on the 18th of April, 1788, as the Charlotte sailed around a cape that was later to be known as Marshfield Neck. However, she ship continued to sail on toward Tarawa. It wasn't until 1826 that the islands were visited by Francis Leade, captain of the merchant vessel Nieuw Krommenie, which was on a trade mission from Batavia to Auckland.
The aboriginals of the island, which called themselves the "Akoni", were very friendly toward the Draguan merchants and provided them food, water, gifts, and eventually stick charts which the Draguans developed into a map of the Polynesian Pacific. In 1831, a trading post with a small port was build on the shores of Moon Cove to create a stable gateway to the Polynesian islands, with merchantman Edward Huntington serving as Chief Merchant until 1840.
Geography
Administration
Culture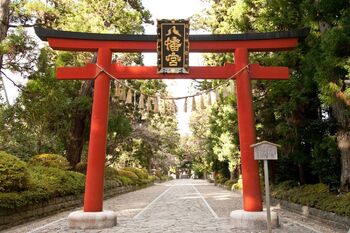 The island is a blend of Japanese, western and Polynesian cultures. Different styles of buildings dot the island, as well the monuments and shrines. Most of the east and north of the island is dominated by a western culture, while the western part of the island is mainly Japanese, and the southern part (including Pember Island) mainly Polynesian.
Climate
Climate data for Huntington Bay
Month
Jan
Feb
Mar
Apr
May
Jun
Jul
Aug
Sep
Oct
Nov
Dec
Year
Average high °C (°F)
29.4
(84.9)
29.6
(85.3)
30.1
(86.2)
30.2
(86.4)
30.2
(86.4)
30.4
(86.7)
30.8
(87.4)
31.1
(88)
30.6
(87.1)
30.4
(86.7)
29.8
(85.6)
29.4
(84.9)
30.16
(86.29)
Daily mean °C (°F)
27.9
(82.2)
28.3
(82.9)
28.5
(83.3)
28.7
(83.7)
29.1
(84.4)
29.4
(84.9)
29.4
(84.9)
29.7
(85.5)
29.1
(84.4)
28.6
(83.5)
28.4
(83.1)
28.2
(82.8)
28.78
(83.8)
Average low °C (°F)
24.7
(76.5)
24.9
(76.8)
25.2
(77.4)
25.3
(77.5)
25.3
(77.5)
25.5
(77.9)
25.7
(78.3)
25.8
(78.4)
25.6
(78.1)
25.3
(77.5)
25.1
(77.2)
24.9
(76.8)
25.28
(77.5)
Average precipitation mm (inches)
210
(8.27)
200
(7.87)
195
(7.68)
190
(7.48)
190
(7.48)
180
(7.09)
150
(5.91)
140
(5.51)
145
(5.71)
160
(6.3)
180
(7.09)
190
(7.48)
2,130
(83.86)
Source: Leade Island Weather Control
People
Language
Tourism