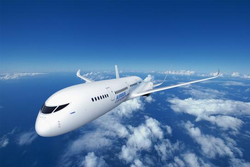 The Airbus A333 (known as the Stratos in concept and pre-production stages) is a European long range passenger jetliner introduced in 2010. It is being built by European Aerospace. The 333 is the ultimate in passenger flight, in terms of comfort, speed and efficiency.
History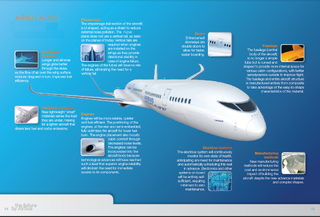 The 333 began its life in 2000 as a concept plane, envisioned by then-CEO Luis Bermejo as the "plane of tomorrow". While only a abstract idea at the time, there was serious interest in this project and increaed revenues in the coming years enabled the "Stratos Project" to begin in 2003. The original concept was finished in 2005 and was planned to achieve spaceflight, but for practical and economic reasons this was scrapped in 2006. The final concept was made in 2007 and tests were conducted that year and through early 2008. The first production 333 was inaugurated on 3 July 2008. Emirates Airways became the first airline to acquire a 333, which entered service on November 2008. Various delays with minor issues led to subsequent 333's being delivered after June 2009.
Engine
The 333 is powered by twin-engine jets meant to be fueled with BG100. These engines are partly embedded to the rear fuselage (instead of on the wings) giving it better aerodynamics and lower cabin noise.
Cabin
The 333 is capable of seating 380 passengers comfortably. The interior is made from lightweight materials, including seats, bathroom and other equipment. The pilots cabin is equipped with modern electronic controls to ensure the most precise readouts to prevent any equipment failures/problems.
A

earoflot

Emirates Airways (United Emirates)
British Airways
EuroAir (Europa)
Air France
Lufhansa
TAP Portugal
Turkish Airlines
United Airlines
Swiss International Air Lines
Iberia
LAN
Skandinavisk Government
oman air
A360
The A360 Spacejet is a short-takeoff aircraft concept being produced by EAS. It is based on the A333, but is shaped more like a bullet. It's engines are able to rotate into a vertical position for taking off. It was first tested on October 17, 2010. The spacejet took off like a plane but quickly went to a near-vertical position, exiting earth's atmosphere like a space shuttle and reaching the thermosphere. The 360 is planned for production/delivery in late 2012 or 2013.
Ad blocker interference detected!
Wikia is a free-to-use site that makes money from advertising. We have a modified experience for viewers using ad blockers

Wikia is not accessible if you've made further modifications. Remove the custom ad blocker rule(s) and the page will load as expected.