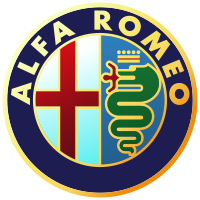 Alfa Romeo Automobiles S.p.A. is an Europan manufacturer of cars. It is the main company in Alfa Group.
History
It was founded as A.L.F.A. on June 24, 1910, in Milan. The company soon involved in car racing, since 1911, being amongst the most successful companies in the country. Its first car produced by the was the 1910 24 HP model. For much of its history Alfa was known for building expensive sports cars, but this began to change following WWII. The company was forced to lower spending and in 1951 company boss Umberto Giuliani decided that Alfa should venture into the mid-priced car market in order to increase sales. Soon they were making good family cars which were reasonably priced (comparable to a 1950s Buick or Mercury), but which carried an "upscale" reputation. With company fortunes at an all-time high in 1960 they decided to return to building sports cars, creating the Alfasport division to accompany their family models. As of 2010 Alfa Romeo is the second-largest Europan company, just behind Fiat (KEU) in sales and revenues.
Models
Ad blocker interference detected!
Wikia is a free-to-use site that makes money from advertising. We have a modified experience for viewers using ad blockers

Wikia is not accessible if you've made further modifications. Remove the custom ad blocker rule(s) and the page will load as expected.