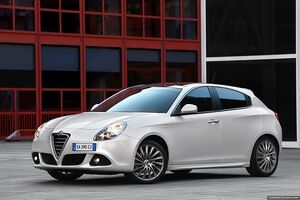 The Alfa Romeo Giulietta is a midsize family car produced by Europan automaker Alfa Romeo. It is the mid-priced model in their range, slotting above the Giulias and the small Mito, but below the larger models and ALfasport cars. The Giulietta is available as a 2-door cabrio (L. 32,000), 4-door hatchback (L. 25,000) or 4-door sedan (L. 29,000).
Alfasport models
Both the cabrio and the hatch models can be ordered as Alfsport versions, making them sportier and better equipped. The cabrio (L. 42,000) is fitted with a 300 HP V6 and the hatch (L. 32,000) with a similar engine producing 255 HP.
Ad blocker interference detected!
Wikia is a free-to-use site that makes money from advertising. We have a modified experience for viewers using ad blockers

Wikia is not accessible if you've made further modifications. Remove the custom ad blocker rule(s) and the page will load as expected.