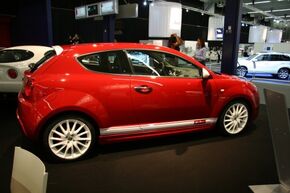 The Alfa Romeo Mito is a small family car produced by Europan automaker Alfa Romeo. The Mito comes only as a 2-door hatchback, priced at around L. 16,000. A Rally package developed by Alfasport can be ordered for this car, costing L. 6200. When added to the car, it will feature a racing-inspired interior with racing seats, special "Rosso Alfa" exterior paint scheme, rallying rims and a sporty 200 HP 4-cylinder motor.
Ad blocker interference detected!
Wikia is a free-to-use site that makes money from advertising. We have a modified experience for viewers using ad blockers

Wikia is not accessible if you've made further modifications. Remove the custom ad blocker rule(s) and the page will load as expected.