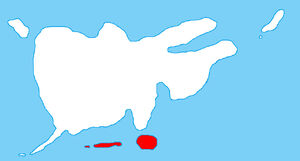 An Oilíana hÓ Dhéase, Rockallian for "Islands of the South" (pronunciation: [ən ˈœ:lʲinˠə hoˈçi:ʃə]), are a group of islands to the south of the Island of Rockall in the Earldom of Rockall in the Seafaring Confederation. There are three islands, these are, from east to west, Aoleoil, Réithchearraigh and Eoil na Máirbhdhine. There are approximately 60,000 inhabitants on the islands, with most of them living in An Cearraigh Áirdh on Aoleoil. The islands are divided into 7 baronetcies.
They belong to the viscountcy of An Uinnia.
Geography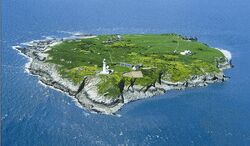 Aoleoil and Eoil na Máirbhdhine are generally quite flat, whilst Réithchearraigh is quite rocky and elevated, as well as elongated in shape. This because the former were created from sandbanks whilst the latter is a Caledonide rock and the southernmost part of the Lóda na Núille.
Subdivisions
An Oilíana hÓ Dhéase consist of 7 baronetcies spread across 3 islands. On 2 of these 3 islands, an institution known as Báiruinnealteachdecarateachd, "Baronetcy Friendship", which means that the baronetcies of these islands are joined together under one Island Council.
Aoleoil and Réithchearraigh both have 3 baronetcies, Eoil na Máirbhdhine only has one.
There are seven baronetcies:
Ad blocker interference detected!
Wikia is a free-to-use site that makes money from advertising. We have a modified experience for viewers using ad blockers

Wikia is not accessible if you've made further modifications. Remove the custom ad blocker rule(s) and the page will load as expected.