The Hon. Andrew Lawrence Hindle (b. October 13, 1951, Scarborough, Scoita) is a Georgeland politician and a former Speaker of the Georgeland House of Commons.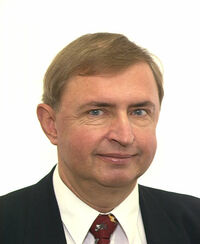 Hindle was elected to the Georgeland House of Commons in 1991, after a career in the private sector. He has a degree in social science and was a social worker for some time prior to his business career. Hindle was first elected as a member of the Georgeland Party. In 1999 that party merged with Labour defectors loyal to Campbell Rhodes to form the United Islands Liberal Party, for which which Hindle ran in his seat until 2005. Hindle is now a member of the Liberal Democratic Party. Following the collapse of the Labour Party, incumbent Speaker Janet Morris quit the position to head up the Union Party of Georgeland, and Hindle, one of the deputy speakers, was chosen by the House to replace her. Hindle's term as Speaker was compared unfavourably to Morris's; Speaker Hindle refrained from 'personalising' the job too much, and is considered to be rather dull compared to his predecessor, indulging in little 'banter' with the House.
In July 2006, Hindle announced he would step down as Speaker for 'personal reasons', and submitted his resignation to the President of Georgeland. A replacement will be chosen when Parliament resumes on the 21st of August. Hindle will remain an MP until the next election.
Hindle represents the inner-Doubledance seat of Riverside.
Ad blocker interference detected!
Wikia is a free-to-use site that makes money from advertising. We have a modified experience for viewers using ad blockers

Wikia is not accessible if you've made further modifications. Remove the custom ad blocker rule(s) and the page will load as expected.