Ardenjost metro (Sonnend: Ardenjoste gabnat) is a rapid transit system in city of Ardenjost.
The planning of the system started in 1919, and first section (Modern Line 2, Tebankes-Veujer) was opened 1st May 1925.
Today, the system comprises five lines. Their length is 78 km, of which 45 km is underground. Number of stations is 107, of which 3 are in municipality of Udisledok, 2 in municipality of Harguik and 102 in municipality of Ardenjost.
Operation
The subway operates Mon-Thu 5.30-23.30 and from Fri 05.30 to Sun 23.00.
Periods:
Mon-Fri 5.30-7.00: every 5 mins
Mon-Thu 7.00-20.00: every 4 mins

except line 4, 7.00-17.00: every 2.5 mins

Mon-Thu 20.00-23.30: every 5 mins
Fri 7.00-23.30: every 4 mins

except line 4, 7.00-18.00: every 2.5 mins

Fri/Sat 23.30-Sat/Sun 5.30: every 8 mins
Sat 05.30-23.30, Sun 05.30-23.00: every 5 mins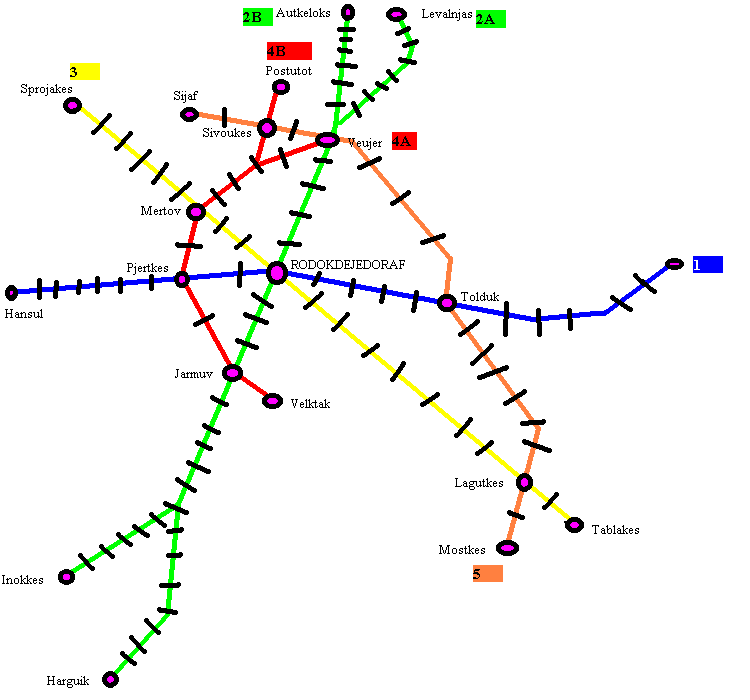 Ad blocker interference detected!
Wikia is a free-to-use site that makes money from advertising. We have a modified experience for viewers using ad blockers

Wikia is not accessible if you've made further modifications. Remove the custom ad blocker rule(s) and the page will load as expected.