Australian federal election, 2036

---
---

All 156 seats in the Australian House of Representatives

and 40 (of the 76) seats in the Australian Senate

First party
Second party
Third party

Leader
Tony Burke
Verity Barton
Jim Saleam
Party
Labor
Liberal National
Nationalist
Leader since
17 January 2020

(2009-12-01)

21 April 2033

(2013-06-26)

25 February 2031

(2013-06-26)

Leader's seat
Watson
Longman
Wright
Last election
51 seats
40 seats
28 seats
Seats won
57 seats
35 seats
34 seats
Seat change
6
5
6
Popular vote
7,002,703
6,444,291
3,010,536
---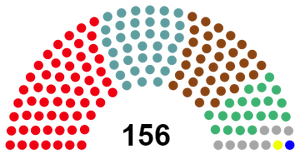 ---
| | |
| --- | --- |
| Prime Minister before election | Elected Prime Minister |
A Federal Election was held on Saturday. 21 June 2036 to determine the members of the 52nd Australian Parliament. The election was won by the centre-left Labor Party led by incumbent Prime Minister Tony Burke against the opposition parties; the centre-right Liberal Nationals led by Verity Barton and the far-right Australian Nationalists, led by Jim Saleam.
The election victory for the Burke government was its 6th consecutive win against the opposition parties whose failure to unite against Labor led to Burke's constant victories. It was, however, going to be the Prime Ministers last, as following a major heart attack on 2 March 2038, he would go onto retire from politics.
The same victorious situation too, occurred with the Australian Nationalist Party which officially registered under the leadership of 78 year old (81 by the 2036 campaign season) Jim Saleam on 24 November 2033 following that years election. During his time as leader, Saleam finally managed to guide the party to a major electoral victory in '36, falling just one seat short of opposition.
Ad blocker interference detected!
Wikia is a free-to-use site that makes money from advertising. We have a modified experience for viewers using ad blockers

Wikia is not accessible if you've made further modifications. Remove the custom ad blocker rule(s) and the page will load as expected.