Australian federal election, 2048

---
---

All 160 seats in the Australian House of Representatives

and all 76 seats in the Australian Senate

First party
Second party

Leader
Andrew Burges
Walter Keyes
Party
Australian Nationalist
Democratic
Leader since
29 January 2037

(2013-06-26)

19 May 2043

(2009-12-01)

Leader's seat
Cowper
Howard
Last election
93 seats
8 seats
Seats won
105 seats
37 seats
Seat change
12
29
Popular vote
10,307,014
3,950,931
---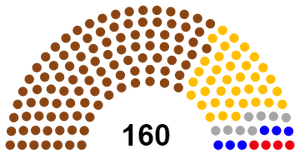 ---
| | |
| --- | --- |
| Prime Minister before election | Elected Prime Minister |
The 2048 Australian Federal Election was a parliamentary election that took place on Saturday, 19 September 2048. It was won by the Andrew Burges-led Australian Nationalist Party (ANP) against the new opposition Australian Democratic Party (ADP), led by Walter Keyes, and proved to be the final democratic election prior to the Dissolution Acts. 
The election was the first and only election to operate under a new double dissolution system (which all seats in both the upper and lowers houses were up for election). The incumbent party one easily on the back of the institution of a national white Australia policy and the the barring of first generation, non-white immigrants from many aspects of everyday life.
The more centrist offshoot of the Liberal National Party also reached the apex of its power in parliament during the election; the Australian Democratic Party. Absorbing the remaining Liberal National seats, they took their place in opposition after successfully steering many voters disenfranchised by the Burges government's power to vote for them.
Ad blocker interference detected!
Wikia is a free-to-use site that makes money from advertising. We have a modified experience for viewers using ad blockers

Wikia is not accessible if you've made further modifications. Remove the custom ad blocker rule(s) and the page will load as expected.