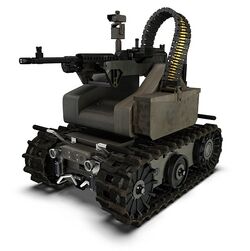 The MAD (Military attack and defense) are miniature robotic tanks produced by Benelli of Europa. These robots are equipped with various weapons, sensors and cameras. These are often used in very dangerous combat situations. While being completely autonomous robots, they can be remote controlled if necessary.
Versions
MAD 1
The MAD 1 is the basic and most common version. This is armed with a powerful machine gun and is used to lead infantry into attack operations.
MAD 2
MAD 2 is a more advanced version. This has a faster speed, more firepowerand is slightly larger. It may be armed with rocket or grenade launchers, Supernova systems or even T10 Missiles.
Ad blocker interference detected!
Wikia is a free-to-use site that makes money from advertising. We have a modified experience for viewers using ad blockers

Wikia is not accessible if you've made further modifications. Remove the custom ad blocker rule(s) and the page will load as expected.