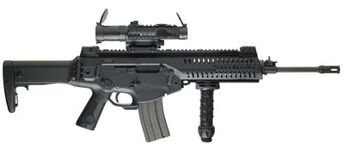 The ARX-160 is an assault rifle manufactured by Pietro Beretta S.p.A. Developed for the Italian armed forces as part of the Soldato Futuro (Future Soldier in English) program, the ARX-160 has been launched in the year 2008, complete with a companion single-shot 40mm NATO low-velocity grenade launcher, called GLX-160, which can be underslung to the rifle or used with an ad-hoc stock system as a stand-alone weapon.
The ARX-160 is composed of two receivers, both manufactured mostly in polymer, and operates through a short-stroke piston system. Feeding is through STANAG magazines. The weapon's unique features include ambidextrous safeties, magazine catches and charging handle, the ability to change which side spent casings are ejected, a quick-change barrel which can be removed and replaced in seconds without tools, picatinny rails and a foldable telescopic stock.
Ad blocker interference detected!
Wikia is a free-to-use site that makes money from advertising. We have a modified experience for viewers using ad blockers

Wikia is not accessible if you've made further modifications. Remove the custom ad blocker rule(s) and the page will load as expected.