The Highlands-Lowlands Border between the nation of the Highlands in the Seafaring Confederation and the Lowlands part of Scotland is notorious for its many odd-shaped border irregularities. These irregularities include enclaves and exclaves, practical exclaves, panhandles, as well as what is considered the world's narrowest strip of land belonging to one country whilst being surrounded by another.
The Lowlands Glens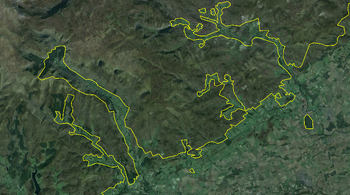 The Lowlands Glens are four glens, namely North Esk Glen, Waterhead Glen, Clova Glen and Prosen Glen, as well as four exclaves. The four glens belong to the Lowlands, which also has two exclaves in Highlands territory (the Glenesk Upper Farms). In the other direction, the Highlands have two exclaves in Lowlands territory (Ogil Village and Edzell Forest).
In several places, the width of the land belonging to the Lowlands is less than 60 metres, protruding in what could otherwise be considered Highlands territory.
Craigie
Craigie is a small village located on the opposite side of the Loch of Clunie in regards to the Highlands.
Despite being connected to the Highlands through a narrow strip of land to the north of the loch, the road that runs there enters Lowlands territory twice, which means that it is practically impossible to sensibly travel to Craigie without travelling through the Lowlands. It is thus a practical exclave as well as a panhandle due to the shape of the outcrop of land.
Dunkeld, Inver and Birnam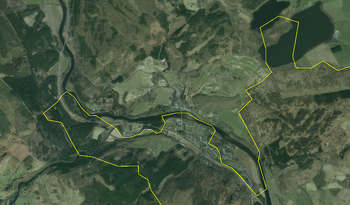 Dunkeld, Inver and Bernam are three villages divided by the border and the Tay. Here, the village of Inver, which is located entirely on the Lowland bank of the Tay, belongs to the Highlands, as well as a part of the village of Birnam, half of which belongs to the Highlands and half of which belongs to the Lowlands. Dunkeld is divided between Dunkeld in the Highlands on the Highland bank and Little Dunkeld on the Lowland bank.
Ad blocker interference detected!
Wikia is a free-to-use site that makes money from advertising. We have a modified experience for viewers using ad blockers

Wikia is not accessible if you've made further modifications. Remove the custom ad blocker rule(s) and the page will load as expected.