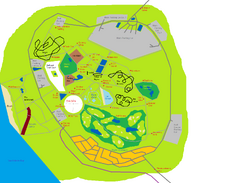 Caribbean Playland is an oceanfront amusement park located in the Seadrift neighborhood of the Calhoun district of New Bay City, Texas. The park is owned by the EcruFox Corporation and is still under construction as of December 2011. Caribbean Playland features many rides, including three roller coasters and a Ferris Wheel. The EcruDome is also located in the park. The park also features a complete golf course, which is used for tournaments annually.
Overview
Accommodation
U1 Hotel and Casino: Largest accommodation in the park which is owned by YouFirst! International. The hotel is complete with a swimming pool, casino and spa. There are 150 rooms.
MGM Grand Caribbean Playland: The MGM Grand is complete with a small casino and about 100 rooms.
Rentable cabins
Attractions
Kamikaze
Benihana
Bumper cars
The Reactor: The fastest roller coaster at the park, and second largest.
The Loops: Slowest, however, thrilling roller coaster. It features three loops which the coaster completes while going at a medium speed.
Wheel of Sighs: Main Ferris Wheel at the park. Known for the exceptional view it provides of New Bay City.
Freefall
House of mirrors
Water World: Caribbean Playland's own water park. It features two large pools, a lazy river, an artificial ocean which projects waves, and three large tube slides.
Haunted White House
Paintball
Freak Out
Eagle: The largest coaster at the park.
Japanese Gardens
Golf Course: The Caribbean Playland golf course is used year round for local golfing and regularly for tournaments. Because of the course, the private residences on the edge of the course are priced high.
EcruDome: A dome which is used for concerts and other events, such as shows or speeches. The annual New Bay Gamer Convention is also held inside the dome, with a LAN featuring 5000 seats.
Mall and Food Court
The Boardwalk
Seadrift beach
Food and drink
Kentucky Fried Chicken
Planet Hollywood
O'Charley's
Del Taco
McDonald's
Other
Picnic area
Petting zoo
Arcade
Cinema
Outdoor event area
See Also
Ad blocker interference detected!
Wikia is a free-to-use site that makes money from advertising. We have a modified experience for viewers using ad blockers

Wikia is not accessible if you've made further modifications. Remove the custom ad blocker rule(s) and the page will load as expected.