Carl-Gustaf M3
Talk

0
9,822pages on
this wiki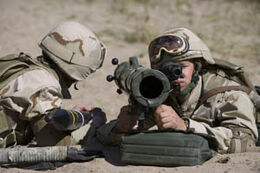 The highly versatile
Carl-Gustaf
system is a true multi-role, man-portable shoulder-fired weapon. The system offers the soldier various types of ammunition, ranging from armour penetration and anti-personnel, to ammunition for built-up areas as well as special features like smoke and illumination. The M3 version of the launcher features significant weight reduction and improvements for urban operations. It is designed and manufactured in the
Baltic Union
by
Saab Dynamics
.
The Carl-Gustaf system is designed and suitable for a wide range of missions. It is light and ruggedized and its multi-purpose capability provides freedom of action for the commander in all environments. There is a suitable type of ammunition for any kind of advanced operation, making the Carl-Gustaf the true multi-mission system.
Flexibility
Edit
Crew-operated
Man-portable
Multi-mission
Highly effective
Edit
Highly robust and reliable

Added by

BIPU

Devastating behind-armour effects
Airburst capability
Highly usable
Edit
Combat-proven
Easy to operate
Easy to train
Reloadable
Rugged
Complete compatibility between older versions of the launcher with new munition types and vice versa
For training activities, Carl-Gustaf offers sub-calibre trainers, full-cailbre practice rounds and simulators to meet different training objectives such as gunnery training and combat training. A cost effective training solution can be tailorised.
Technical specifications
Edit
| | |
| --- | --- |
| Weight of weapon | ~ 10 kg |
| Length of weapon | ~ 1,0 m |