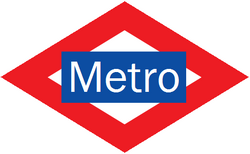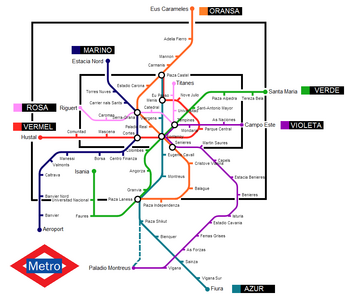 The Carona Metro (Metro na Carona) is a rapid transit system and the main transportation network in Carona, capital of Antaria. The metro was founded in 1910 and is one of the busiest and most extensive subway systems in the world, having 68 stations and x kilometers in length. Fontenoy is the busiest station in the network.
History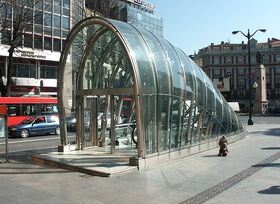 The metro was inaugurated in 1910 for the World's Exhibition fair in Antaria that year. Work had begun around 1904 and for the exhibition in 1910 a portion of the red line (between Menis and Cortes stations) was completed to serve the city.
The cost of that line put off any subsequent expansion until 1933, when the growth of the city demanded an increase in public transportation. The Pink Line was completed in 1939 and work then began on the extension of the red line to Piaza Castel.
The next major construction was the Blue line, going from Piaza Castel to Piaza Lanesa, completed in 1948. This was later extended south to Fiura station in 1976, the last major expansion of the metro.
The red line was extended west to the Hospital station in 1955, and the Green and Marine lines were completed in 1959 and 1966.
Lack of sufficient transit to the east and south prompted the construction of the Violet line from 1971 to 1977, which was plagued by some construction issues. Likewise, an a line north was completed from 1965 to 1970, connecting Piaza Lanesa to Eus Carameles. Most recently, work is being done to the blue line at Piaza Shikut to add a branch to connect to Paladio Montreus on the purple line.
Traveling the metro
Routes and lines
There are seven lines on the metro serving the city and the surrounding areas.
Fares
The metro has three fare zones, 1 (the center), 2 (outer city) and 3 (suburbs). Travel within any zone costs 0,50 d, across two zones is 0,80 d. and across all three is 1,20 d.
Ad blocker interference detected!
Wikia is a free-to-use site that makes money from advertising. We have a modified experience for viewers using ad blockers

Wikia is not accessible if you've made further modifications. Remove the custom ad blocker rule(s) and the page will load as expected.