Changhua
Talk

10
10,413pages on
this wiki
Changhua


Chinese:彰化 Zhānghuà

Motto: "We are always togerther"
Anthem: Our Formosa


Territorial Map of Formosa
Capital.
Donghai

Largest City.
Shanghai

Official languages
Chinese, Taiwanese, Ughyar
Recognized regional languages
Korean, Japanese, Filipino, Vietnamese, and several others
Demonym
Changhuan
Plural
Changhuan
Government

 - President

presidential republic
Akita Chan

Formation
January 1, 1950
Area
Total


4,830,663 km2

Population
2011 census
2012 estimate
.

994,840,978
1,042,590,069
GDP (PPP)
Total
Per capita
2011
$15.847 trillion
$15,200
GDP (nominal)
Total
Per capita
$15.847 trillion
$15,200
Gini
36.8 (low)
HDI (2009)
.768 (high)
Currency

Changhuan Yen(¥)(ZGY)
Time Zones
UTC+4½ to UTC+10
Drives on the
Right
Internet TLD
.cg or .zg
Calling code
+1
Changhua
, is a large nation in Eastern Asia. Formosa has an area of 4,643,985 km
2
and ahs a population of 994 million(2011 census). The capital is
Donghai
, but the largest city is
Shanghai
. consist of
East China
,
South Central Asia
,
Southwest China
(without Tibet),
Hong Kong
,
Macau
,
Gansu
and
Xinjiang
.
Changhua is a presidential state governed by the People's Hall of Changhua. It exercises jurisdiction over 19 provinces, three autonomous regions, four directly controlled municipalities (Donghai, Shanghai, and Chongqing), and two mostly self-governing special administrative regions (Hong Kong and Macau). Its capital city is Donghai. Changhua also claims Taiwan-a separate political entity—as its 23rd province, a claim controversial due to the complex political status of Taiwan and the unresolved Chinese Civil War. The PRC government denies the legitimacy of the ROC.
History
Republic of China (1912-1949)
On 1 January 1912, the Republic of China formed, heralding the end of Imperial China. Sun Yat-sen of the Kuomintang (the KMT or Nationalist Party) was proclaimed provisional president of the republic. However, the presidency was later given to Yuan Shikai, a former Qing general, who had ensured the defection of the entire Beiyang Army from the Qing Empire to the revolution. In 1915, Yuan proclaimed himself Emperor of China, but was forced to abdicate and reestablish the republic in the face of popular condemnation, not only from the general population but also from among his own Beiyang Army and its commanders.
Durin WWII, the Second Sino-Japanese occurs for the second the time(1937-1945).forced an uneasy alliance between the Kuomintang and the Communists. The Japanese "three-all policy" in northern China—"kill all, burn all and destroy all"—led to numerous war atrocities being committed against the civilian population; in all, as many as 20 million Chinese civilians were killed. As tension arises, a massarce in Nanjing killed an estimate of 200 thousand.
On June 24, 1949, the State of Changhua was established as the Nationalist retreated to Taiwan and joined another nation.
Geography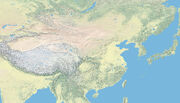 Changhua covers an area of 4,991,956 km2(1,793,053 mi2), making it the fifth-largest country. Formosa has a mostly mountainous landscape. The Yangtze River has the largest watershed in the country and the longest river in Changhua. the Highest point is K2 and the lowest point is Aydingkol.
Demographics
There are 1 billion people living in the State of Changhua. Changhua has the most people in the world. Changhua has a two-child system to keep families from overcrowding. Changhua has 19 administrative divisions exceeding 10 million people and 9 of those 19 administrative divisions exceeds 50 million. Guangdong has the most people of all AD's in Changhua with a population of 104 million. Shanghai is the largest city and Macau has the highest population density.