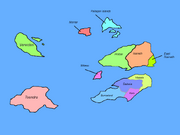 Colot
is a world practically identical to Earth in terms of size and general biological makeup. The landmass of Colot consists of eleven islands, each home to unique cultures, countries, and biomes. 
Countries 
Vereiden
Toendra
Milieau
Sabaia
Burroeland
Karo
Geography
The planet is roughly 75% water and 25% land, 13 Islands make up the surface area of the planet. The largest of them being Solomon, the smallest being Erald.
Biology
Though Colot is diffrent from Earth in terms of size, the two planets share many similar species of animals. 
Humans 
Humans are one of the many things shared between Colot and Earth, though Colot holds diffrent ethinicties diffrent from that of Earth and completely unique to Colot.
Ad blocker interference detected!
Wikia is a free-to-use site that makes money from advertising. We have a modified experience for viewers using ad blockers

Wikia is not accessible if you've made further modifications. Remove the custom ad blocker rule(s) and the page will load as expected.