Commonwealth HSR
Talk

0
10,409pages on
this wiki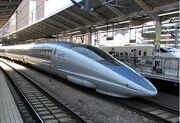 The Commonwealth High Speed Rail Service, or CHSR, is a current project in the United Commonwealths of America to link its major cities together with a ultra-high speed rail service, comparable of that to Japans bullet trains.
The Project began in 2009, and is currently at 80% completion (2012) and planned to be completed in 2012, It is a joint venture between train operator, Valiant and the Repcon Corporation. The trains feature free WIFI, and a new interior, comparable to that of the Bullet Trains of Japan.
Completed Lines
Edit
Northern Line
Edit
The Northern Line was completed in December 2010 and is currently operational with high-speed rail. It is the main line which runs north from Euegene, Oregon to Anchorage, Alaska.
The line runs from; (in order South to North)
Eugene, Oregon
Salem, Oregon
Portland, Oregon
Vancouver, Oregon
Olympia, Washington
Tacoma, Washington
Seattle, Washington
Everett, Washington (Connects to Victoria Line to Victoria, Columbia)
Abbortsford, Columbia
Vancouver, Columbia
Prince Rupert, Colubmia
Petersburg, Alaska
Juneau, Alaska
Anchorage, Alaska (Connections to Fairbanks with Low Speed Rail)
Lines Under-Construction
Edit
Victoria Line
Edit
The Victoria Line will be completed in Septemeber 2012, and will runs from Everett, Washington to Victoria, Columbia, through a tunnel underneath the Salish Sea.