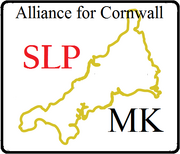 The Cornish Alliance, also known as the Alliance for Cornwall, is a political coalition between the
Social Liberal Party of Wessex
and Cornish party, Mebyon Kernow. The Cornish Alliance was formed in 1997 between the two parties with similar interests and policies. The Alliance only runs for seats in the
Cornish Assembly
, which it currently holds the majority in and is only present in Cornish politics. The Mebyon Kernow Party holds a single seat in the
Parliament of Wessex
, although it is often considered part of the SLP. 
The coalition is often considered far leftist, due to the SLP's leftist liberal and social policies. Mebyon Kernow, believes in liberal civic nationalism for the Cornish people, which is currently supported by the central Wessen Government. 
Ad blocker interference detected!
Wikia is a free-to-use site that makes money from advertising. We have a modified experience for viewers using ad blockers

Wikia is not accessible if you've made further modifications. Remove the custom ad blocker rule(s) and the page will load as expected.