This article is under construction and/or revamp and will be completed at a later date. If this article has not been edited in several days, please remove this template.
This article was last edited by TheMaster001 (talk| contribs). (Update)
In Lecrotia, a county is an administrative subdivision of second order.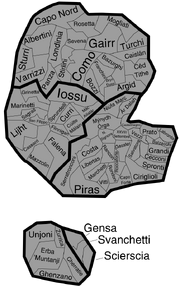 List of Counties
| Name | Capital | Notes |
| --- | --- | --- |
| Svanchetti/Żvanket | Baretta | Baretta is split into three parts: the Western Part is managed by the Ġensa County, the Central one is managed by the Svanchetti County, while the Eastern part is managed by the Xerxaħ County. |
| Gensa/Ġensa | Pagħola (Neighborhood of Baretta) | |
| Scierscia/Xerxaħ | Hunteże (Neighborhood of Baretta) | |
References
Ad blocker interference detected!
Wikia is a free-to-use site that makes money from advertising. We have a modified experience for viewers using ad blockers

Wikia is not accessible if you've made further modifications. Remove the custom ad blocker rule(s) and the page will load as expected.