The Courts of Wessex, officially Her Majesty's Courts of Wessex are the civil and criminal courts responsible for the administration of justice in the Kingdom of Wessex; excluding the devolved administration of Cornwall, and form the Judiciary Arm of the Wessen Government. The Courts apply Wessen Law, a Common Law system, largely based off of English Law principles. The Courts of Wessex are
Supereme Court of Wessex, Cornwall and the Isle of Wight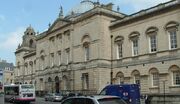 The Supreme Court of Wessex and Cornwall is the highest appeal court in all cases in the Kingdom of Wessex, including Cornwall and the Crown Dependency, the Isle of Wight. The Supreme Court is final word of law within the nation as a whole, which was granted by the Parliament of Wessex in 1995. 
Senior Courts of Wessex
Court of Appeal
The Court of Appeal deals only with appeals or tribunals. The Court of Appeal has the highest position underneath the Supreme Court in the Senior Courts. The Court of Appeal is split into two divisions, the Civil Division hears from the High Court and the County Courts, while the Criminal Division hears from the Crown Courts. 
High Court of Justice
The High Court of Justice functions both as a civil court of first instance and a criminal and civil appellate court for cases from the subordinate courts. It consists of three divisions: the Bench, the Chancery and the Family divisions. The divisions of the High Court are not separate courts, but have somewhat separate procedures and practices adapted to their purposes. Although particular kinds of cases will be assigned to each division depending on their subject matter, each division may exercise the jurisdiction of the High Court. However, beginning proceedings in the wrong division may result in a costs penalty.
Crown Courts
County Courts
Each County of Wessex has a county court, which deals with purely civil cases. They are presided over by the county's High Sheriff. There are 7 County Courts in the Kingdom of Wessex, excluding Bath.  
Ad blocker interference detected!
Wikia is a free-to-use site that makes money from advertising. We have a modified experience for viewers using ad blockers

Wikia is not accessible if you've made further modifications. Remove the custom ad blocker rule(s) and the page will load as expected.