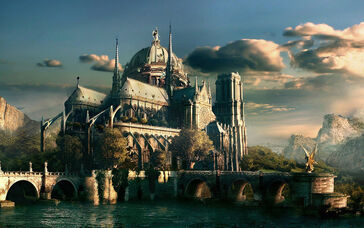 The
Crimson Citadel
is the offical center of the
Kingdom of Tameros
, and the monotheistic religion of the
Crimson Oath
. It is the seat of the current rulling
Crimson Monarch
,
Rowan I
. Located within the walled city of 
Vermilion
. Following the long vast
Nave
which leads too the
Throne of Tameros
, regarded as the most holy position in the
Known World
.
Within the Crimson Citadel is also home to the Tameros Court, located on a side wing of the structure. Seen as the political heart of the Kingdom, most consider the Court and the Throne of Tameros are in a ideological war of 'state and religion'. Rowan typically will be the only soul within the throne room, and will only allow some in on special occasions. While common to have performers, food and wine within a throne room, Rowan has forbidden all human indulgence.
Ad blocker interference detected!
Wikia is a free-to-use site that makes money from advertising. We have a modified experience for viewers using ad blockers

Wikia is not accessible if you've made further modifications. Remove the custom ad blocker rule(s) and the page will load as expected.