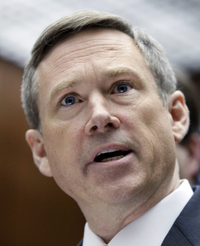 His Excellency KRL Giorgio Sabattini
PALAZZO XXVIII SETTEMBRE, VIA XXVIII SETTEMBRE 1, CAPODISTRIA, PHILIPTON 1000-650, REP. OF LECROTIA
---
FESTINA LENTE
October
28
Democratic conflict: Disgusted by the fight in his party, he has stated that, if necessary, he will urge Guglielmo Moretti, chairman of the party, to expel Giancarlo Stoppiani, the one who started the conflict.
15
Cardinalese Independence: The President, after he heard of the referendum being concluded and 61% of the voters were in favor, has expressed severe disappointment to the result.
13
Cardinalese Independence: While he has stated multiple times that he is against the Cardinalese Independence, the President has showed interested on the outcome of the referendum. He also said: «Who am I to stop people from voting on their independence from Lecrotia?».
8
La Paz incident: The President is shocked and repulsed by the action executed by Mexico. He also stated that, if the nation doesn't stop its acts of aggression, Lecrotia would join the League of Nations-led campaign against Mexico.
7
Islamic State: The President has stated that, if necessary, Lecrotia will take part to the internationally led campaign against the Islamic State, along with NATO and Sierra.
Ad blocker interference detected!
Wikia is a free-to-use site that makes money from advertising. We have a modified experience for viewers using ad blockers

Wikia is not accessible if you've made further modifications. Remove the custom ad blocker rule(s) and the page will load as expected.