The Denier is the official currency of Antaria. This has been in use since 1724, and is one of the oldest continually-used currencies, as it has not been revalued or redenominated. The denier is the most stable currency in the world, floating between 1.15 and 1.20 florinos since 1920. Currently, 1 denier (d) equals 1.17 florinos (ƒ), 0,854 deniers equal 1 florinos.
Coins
Antarian coins are currently issued in the amounts of 1, 5, 10, 20, 50 centims and 1 and 2 deniers. The 2 denieres is on of the highest-valued coins in circulation in the world, being worth 2.35 ƒ (flornos).
Banknotes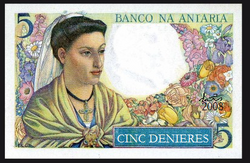 Current denier notes are issued in the amounts of 5, 10, 20, 50, 100 and 500.
Antaria has issued four series of banknotes under the Banco na Antaria. Series one (1871-1914), series two (1915-1942), series three (1942-1980) and series 4, since 1980. The fourth series was updated in 2000 with added security features on the higher-denomination notes. All of the notes since 1915 feature bright designs and imagery.
The highest-denominated banknote, the 500 denieres, is also the most valuable in circulation, worth 585 ƒ, though is infrequently printed and rarely circulates.
Ad blocker interference detected!
Wikia is a free-to-use site that makes money from advertising. We have a modified experience for viewers using ad blockers

Wikia is not accessible if you've made further modifications. Remove the custom ad blocker rule(s) and the page will load as expected.