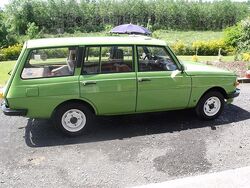 "Димитров, твърди като работник" (Dimitrov, solid like the worker)- A 2010s slogan.
Dimitrov Auto Manufacturers is a car company of East Bulgaria. It is named after Georgi Dimitrov, the 1st communist leader of Bulgaria.
Models
The D100 was introduced in 1963 and was priced at an equivalent of $6000 new. In 1980 a remodeled version was made which was priced at an equivalent of $18000 new. The D200 was made in 1973 and was a luxury car. It was priced at an equivalent of $12000 new and was by 1990 around $22000.
Ad blocker interference detected!
Wikia is a free-to-use site that makes money from advertising. We have a modified experience for viewers using ad blockers

Wikia is not accessible if you've made further modifications. Remove the custom ad blocker rule(s) and the page will load as expected.