Donghai
Talk

0
10,425pages on
this wiki
Donghai(Chinese and Formose:東海 Dōnghǎi) is a municipality and is the capital of Changhua and is the second-largest city in the country. Donghai has 19.653 million people living in the area(with seven-ninths in the urban area). The entire megalopolis area has 62.435 million people. Donghai was bulit in 2002 ans was incoperated in 2006. It became the capital in 2009. Donghai is located in the southwestern section of Shandong. Donghai is also one of the richest cities in the world.
Donghai is located at the southwest corner of the Shandong Province. Its western border is the Huang He River, and the provinces of Shangdong, Henan, Anhui, and Jiangsu. Donghai
Etymology
Edit
Donghai is literally English for "East China Sea".
Infrastructure
Edit
Transportation
Edit
Donghai has an extensive public transport system, largely based on buses, trolley buses, taxis, and a rapidly expanding metro system. All of these public transport tools can be accessed using the Donghai Public Transportation Card, which uses radio frequencies so the card does not have to physically touch the scanner.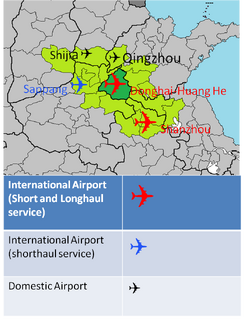 Donghai is the best served city by airports, with 160 million passengers in served by
fi
ve
ai
rpo
rts
. In order they are
Huang He
,
Shanzhou
,
Sappang
,
Shijia
, and
Qingzhou
. All are owned by the Airports of Donghai(AOD). A new airport is under construction in
Huang He and Shanzhou served longhaul and shorthaul destinations. Sappang serve Asian flights, and Shijia and Qingzhou serve Domestic.
Huang He is located in the Jinqiao District, located within Donghai's city proper. HHIA serves 65 million passengers a year, making it the second busiest airport in Aisa, behing Beijing Capital. It the central hub and head office of Zhonggua Air, the country's flag carrier.
Shanzhou is also a longhaul airport. It is located in the unicoperated area of Shanzhou. Shanzhou serves as the only hub for Anhui Airways and a Asian hub of United and China Southern. serves 51.78 million passengers a a year. Shanzhou is the 14th busiest airport by international passenger traffic.
Donghai is served by F84, F90, F690, S9, S11, S211, the Shijia Freeway, and Huange He International Expressway. Each Highway has six lanes for each direction. The Huang He International Expressway(HHIE) connects Donghai to Huang He International Airport. The S11 is a busy highway that runs north-south through runs through the districts of Jinqiao, Shangqiao, Ningxi, and Wulu.
Structures
Edit