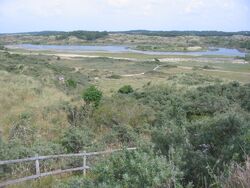 The Dunes of Idunna National Park (Dogrish: Iðunns Dynninni [ˈi:ðɤn̥s ˈtˢyn:ɪn:i]) is a National Park consisting of the Dunes of Idunna. These dunes make up most of the southwestern part of the island of Dogger in the Seafaring Confederation. They lie south of Dogger's capital of Eyjittsmiddi in the counties of Vestkystin and Vittastrandinn.
The Dunes of Idunna are in their entirety officially recognized as Frisian territory.
Etymology
The Dunes are named after the Norse goddess of youth Idunna. According to local myth, Idunna used to pick her apples of youth off the apple trees that grow in the Valley of Youth and distribute them amongst the people of Dogger. The dunes were meant to be a barrier against Ægir, god of the sea, with whom, according to Dogrish religion, Idunna had had a long-standing feud.
Geography
Five municipalities are fully located in the Dunes of Idunna: Suðurland and Viðirstómur in Vestkystin and Svartháfnað, Gellhæðinni and Æskurdalur in Vittastrandinn. They dunes are further also partially located in the municipalities of Sjóhus, Jæskur and Röfnaðstaður in Vestkystin and Hæð and Jystir in Vittastrandinn.
Ad blocker interference detected!
Wikia is a free-to-use site that makes money from advertising. We have a modified experience for viewers using ad blockers

Wikia is not accessible if you've made further modifications. Remove the custom ad blocker rule(s) and the page will load as expected.