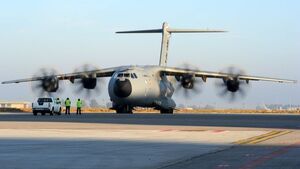 The
EAS-Marelli M5
, also known as the "Atlas" and formerly as the Airbus A400M is a multi-national four-engine turboprop military transport aircraft.
Development
The project began as the Future International Military Airlifter (FIMA) group, set up in the 1980s. Assembly of the M5 was done in the Seville plant and the Izmir plant. beginning in 2005. The final tests were done in
Specifications
General characteristics
Crew: 3 or 4 (2 pilots, 3rd optional, 1 loadmaster
Capacity: 37,000 kg (81,600 lb)

116 fully equipped troops / paratroops,
up to 66 stretchers accompanied by 25 medical personnel

Length: 45.1 m (148 ft 0 in)
Wingspan: 42.4 m (139 ft 1 in)
Height: 14.7 m (48 ft 3 in)
Empty weight: 76,500 kg (168,654 lb) ; operating weight
Max takeoff weight: 141,000 kg (310,852 lb)
Fuel capacity: 50,500 kg (111,330 lb) internal fuel
Max landing weight: 122,000 kg (268,963 lb)
Powerplant: 4 ×Europrop TP400-D6 turboprop, 8,250 kW (11,060 hp) each
Propellers: 8-bladed, 5.3 m (17 ft 5 in) diameter
Performance
Cruising speed: 780 km/h (480 mph; 420 kn) (Mach 0.68-0.72)
Initial cruise altitude: at MTOW: 9,000 m (29,000 ft)
Range: 3,298 km (2,049 mi; 1,781 nmi) at max payload (long range cruise speed; reserves as per MIL-C-5011A)

Range at 30-tonne payload: 4,540 km (2,450 nmi)
Range at 20-tonne payload: 6,390 km (3,450 nmi)

Ferry range: 8,710 km (5,412 mi; 4,703 nmi)
Service ceiling: 11,300 m (37,073 ft)
Tactical takeoff distance: 980 m (3,215 ft) (aircraft weight 100 tonnes, soft field, ISA, sea level)
Tactical landing distance: 770 m (2,526 ft) (as above)
Turning radius (ground): 28.6 m
Ad blocker interference detected!
Wikia is a free-to-use site that makes money from advertising. We have a modified experience for viewers using ad blockers

Wikia is not accessible if you've made further modifications. Remove the custom ad blocker rule(s) and the page will load as expected.