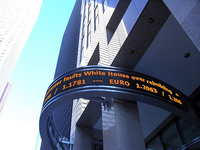 The following article details news broadcasts in the form of ticker bars displayed by the
EcruFox Media Group of America'
s international news division.
January 2012
20: San Andreas State Senator Trevor Prince outraged by Justice Department shutdown of "Megaupload.com" and threatens the career of Daniela Chi, Attorney General.
21: Despite Senator Prince's protests, a case against Megaupload is filed in the Allied States Criminal Court. Senator Prince announces that he will support Megaupload's case.
31: Senator Trevor Prince proposes the No Man's Land Bill of 2012 in Senate. The bill is expected to receive a lot of support from DLP Senators.
February 2012
5: Presiding Senator Trevor Prince announces that he will be running from President in the 2014 presidential election.
8: Middle East invaded by Allied States and Europan forces.
8: Senator Trevor Prince's view on the war: "fuck yeah."
14: No Man's Land Bill of 2012 passes the Allied States Senate. Bill to be reviewed by the executive before passing as law.
March 2012
11: No Man's Land Bill of 2012 approved by the Presidency and becomes law. EcruFox Corporation as well as other companies outraged.
April 2012
16: Controversial foreign policy breaks ground. Federal government no longer recognizes foreign law enforcement as having jurisdiction over AS citizens.
See Also
Ad blocker interference detected!
Wikia is a free-to-use site that makes money from advertising. We have a modified experience for viewers using ad blockers

Wikia is not accessible if you've made further modifications. Remove the custom ad blocker rule(s) and the page will load as expected.