East Britannia
Part of United Kingdom of Britannia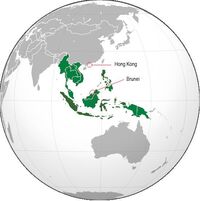 South East Asia in Green, Hong Kong and Brunei shown.
Region Information
Land Area:
6,869 km2
Cities and Towns
Population:
7,463,090
Pop. Density:
6,480/km2
Largest City:
Hong Kong
East Britannia is a region of Britannia. It is located in South East Asia, and consists of two of the UK's countries, Brunei, and Hong Kong. It is the smallest of the regions, but still has a large population for its size. Unlike other regions, East Britannia has two parliaments, one for Hong Kong, and one for Brunei.
Government
Unlike other regions of Britannia, East Britannia has two regional parliaments, that are present at national parliament in London, it is mainly because they are located on different landmasses. Brunei's parliament is located in Bandar Seri Bagawan and Hong Kong's in Hong Kong.
Environment
Both territories have very different environments, Hong Kong is a city state with high urbanisation, and Brunei is a small less populated country on the island of Borneo.
Climate
The climate in Southeast Asia is mainly tropical–hot and humid all year round with plentiful rainfall. Southeast Asia has a wet and dry season caused by seasonal shift in winds or monsoon. The tropical rain belt causes additional rainfall during the monsoon season. The rain forest is the second largest on earth (with the Amazon being the largest).
Cities
The two largest cities in East Britannia are Hong Kong, and Bandar Seri Bagawan in Hong Kong and Brunei respectively. Hong Kong had a population of 7,061, 200 in 2010, and Bandar Seri Bagawan 146.000 in 2013.
Ad blocker interference detected!
Wikia is a free-to-use site that makes money from advertising. We have a modified experience for viewers using ad blockers

Wikia is not accessible if you've made further modifications. Remove the custom ad blocker rule(s) and the page will load as expected.