This article is under construction and/or revamp and will be completed at a later date. If this article has not been edited in several days, please remove this template.
This article was last edited by Falloutfan08 (talk| contribs). (Update)
East Istanbul

—  City  —
Doğu İstanbul

Population
 - Total
10,328,134
East Istanbul (Dogu Istanbul - Turkish) is a city on the Bospherous River in the Turkish Province of Turkicstan. Created after the separation of Istanbul, by Europa after the Third Balkan War.
The city grew physically and economically after the separation, and today is the most important financial centre in Turkicstan, followed by Ankara and Baku. The Boshperous Bridge connects the two sides together, which has security checkpoints on either side.
As of 2012, Istanbul is one of two divided cities in Turkicstan, along with Nicosia/Lefkosa in North Cyprus, which are also the only two in the world.
Culture
Although most of Istanbul's cultural and historic buildings and attractions are located in the Europan controlled side of the city, East Istanbul still has a rich cultural heritage, such as the Karacaahment Cemetery, including the Sakirin Mosque, also known as the 'modern mosque' after opening in 2009. Istanbul is known as the 'city of spires' known for its many mosques, and there is no shortage of them, with over 60 mosques in East Istanbul and surrounding urban areas alone.
The Turkicstan Airlines Arena is located in East Istanbul, and is the largest in the country, regularly hosting football, concerts and other events.
Economy
East Istanbul is the countries most important financial centre, followed by Ankara. With many companies based in the city, including Turkcell, Turkgaz (After moving its headquarters after the Turkmenistan independance), Turkicstan Airlines and the Koc Group. The main financial area is Kadikoy.
The city is also a major tourist destination, albeit less important than west Istanbul, it is still a major source of the cities economy, with over 300,000 tourists a year.
Transport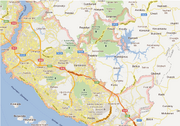 As Ataturk Airport is located in Europan Istanbul, Sabhia Gokcen Airport has gone under huge expansions, including the building on a new terminal, and the extension of the runway to handle larger aircraft for long haul. The expansion projects were officially completed in 2009, and the airport is now the busiest in the country, followed by Ankara.
East Istabul has a tram system operated since the 1950's, and has gone under modernisation and expansion, over recent years giving the city better infastructure. The Tram System links all neighbourhoods to major destinations, such as East Istanbuls central district. The East Istanbul Transit System connects major transport hubs and important areas, completed in 2011.
Major Routes:
Otuyul O-1 - Inner Beltway
Otuyul O-2 - Outer Beltway
Otuyul O-4 - Istanbul - Ankara
D100 State Route - State Route - Edirne - Gurbulak
Ad blocker interference detected!
Wikia is a free-to-use site that makes money from advertising. We have a modified experience for viewers using ad blockers

Wikia is not accessible if you've made further modifications. Remove the custom ad blocker rule(s) and the page will load as expected.