The East Istanbul Transit System (EITS) is East Istanbul's Metro Rail, Tram, MetroBus and Taxi Service. The EITS is owned and operated by Ulasim.
Bus and Taxi
East Istanbul has implemented a bus and taxi service. Bus routes travel all over the city with additional routes travelling to suburban destinations.
The EITS taxi service is a major taxi service in which controls East Istanbul (EI) Taxi. The EI Taxi cars feature yellow cabs, usually Fiat Albeas, or KIA Rios.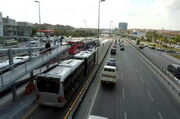 Bus Rapid Transit
The bus rapid transit (BRT) system in Istanbul is called Metrobüs. The first line runs between Avcılar and Söğütlüçeşme. This line is 41,5 km long and has 35 stations, which are located on Istanbul's Main Highway, called the D 100. It is currently operated with Mercedes Capacity, Mercedes Citaro, and some Phileas buses.
Metro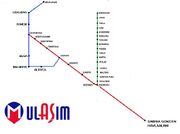 The East Istanbul Metro (EIM) consists of 3 lines, Red, Blue and Green lines.
Red
The Red Line runs from the West of the city, to the East, beginning in the West at Haydarpasa, and connecting with the Blue and Green lines, and terminating at Sabhia Gokcen Airport in the East. The Red line connects with the Blue line at Haydarpasa, and Goztepe, and the Green line at Kucukyali Station.
Blue
The blue line runs along the west of the city, by the shore of the Boshpherous, beginning at Bogazi (River) Station, and ending at Goztepe. The Blue line connects with the red line at Haydarpasa, and Goztepe.
Green
The green line connects the north of city, and the outer suburban areas, beginning in the north at Osmangazi, and connecting with the red line in the south, at Kucukyali.
Tram
East Istanbul has a Tram system, which operates road electric trams cars. Which operate in the central areas, aswell as the suburban areas, stopping regularly, unlike the Metro. There are two tram lines, T1, and T2.
T1
T1 runs from Kadikoy, to Adiyentepe.
T2
This is the nostalgic Moda tramway (T2). This is a single track circle tramway in Kadıköy on the Asian side. Stations are Kadıköy (connect to Ferry) - İskele Camii - Çarşı - Altıyol - Bahariye - Kilise - Moda İlkokulu - Moda - Mühürdar - Damga Sokak and back to Kadiköy.
Ad blocker interference detected!
Wikia is a free-to-use site that makes money from advertising. We have a modified experience for viewers using ad blockers

Wikia is not accessible if you've made further modifications. Remove the custom ad blocker rule(s) and the page will load as expected.