Elevated Hi-Speed Rail
Talk

8
10,413pages on
this wiki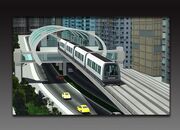 The Elevated Hi-Speed Rail project is a proposed Cascadian rail infrastructure plan that would allow high-speed trains to travel faster, more directly, and at the same time disturbing wildlife, habitats, and scenery less often.
The system is designed to balance eco-friendliness and efficiency. Very light elevated tracks are to hover approximately 100 feet above the ground via anti-gravity technology, transitioning into a pillared elevated rail system in cities, similar to the Chicago elevated rail. Major stations are planned at Portland, Seattle, and Vancouver, as well as extra, less capacity stations at cities in between. These ports would also be elevated, with stairs to the ground, and possibly entrance into the first or second floor of some buildings.
The current plan is to build a trial EHSP from Portland to Vancouver, also running through Seattle along the way. It will use the structure of the Cascade Range to create an efficient route. The Portland-Vancouver route is currently being planned, and is expected to be constructed over the Summer of 2011. The route is scheduled to open for the general public in October 2011.