The Hon. Emma Hewitt (b. March 5, 1943) is the current Governor of Capitalia, elected in February 2005. She won the election for Governor with 45% of the primary vote, defeating former Chief Minister of Capitalia Matthew Buckley and Capitalia Supreme Court justice Ed Williams - see Capitalia gubernatorial election, 2005.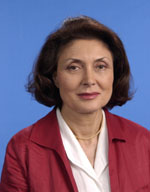 Hewitt spent the 1960s as a working-class stay-at-home-mother and recieved no university education, unusual for a Georgeland political figure. In 1973 she began speaking out in her local council and was elected to the New Kikipolis council in 1980. In 1987 she ran for the Georgeland House of Commons as a Labour candidate but was defeated. In 1994, Hewitt became Mayor of New Kikipolis, a post she served in for five years. In 1999, she resigned as Mayor when the Labour Party split, and refused to join the new United Islands Liberal Party. She remained on the city council as an Independent until 2000. In 2005, she made a return to politics, nominating for Governor and defeating frontrunner Buckley and Justice Williams in a surprise upset. Governor Hewitt has kept a low profile as Governor, but came under fire in August 2005 for spending $200,000 on renovations for the official Governor's residence. Governor Hewitt's husband Gary was a factory worker and later a foreman, who died in an industrial accident in 1977. The couple had two children - Thomas (b. 1968) and Lorna (b. 1974). From 2004, Hewitt was often mentioned as a potential Presidential candidate, despite her lack of experience. In October 2007, Hewitt denied any interest in running for President and said she would contest the next Gubernatorial election instead.
Ad blocker interference detected!
Wikia is a free-to-use site that makes money from advertising. We have a modified experience for viewers using ad blockers

Wikia is not accessible if you've made further modifications. Remove the custom ad blocker rule(s) and the page will load as expected.