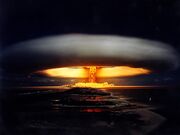 The Emperor bomb is a massive 80000 kt bomb developed by the Republican Army. The test bom was called "Emperor Franz Joseph" (after the Austrian emperor). This was tested underground in a secret remote location and it collapsed in a whole mountain and this was done in October 2010. There are at least 2 other bombs, Emperor Norton (of San Francisco) and Emperor Constantine (of Rome).
Ad blocker interference detected!
Wikia is a free-to-use site that makes money from advertising. We have a modified experience for viewers using ad blockers

Wikia is not accessible if you've made further modifications. Remove the custom ad blocker rule(s) and the page will load as expected.