Dr. Erica Janelle Lucas (b. September 11, 1963) is a Georgeland politician and medical practicioner. She is currently the country's Shadow Minister for Foreign Affairs, appointed in July 2007.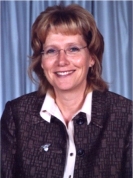 Dr. Lucas is a clinical psychologist by nature, though she has been a practicing MD as well. She earned her qualifications at the University of Scoita and studied for a year at Johns Hopkins Medical in the United States. In 1999, Dr. Lucas was elected to the Georgeland House of Commons representing the rural Mainland (now East Mainland) seat of Tamworth. She has retained the seat each time since. Elected as a member of the United Islands Labour Party, she joined the United Islands Liberal Party in 1999 after its founding and is now part of the ruling Liberal Democratic Party of the United Islands.
In March 2003, Lucas was appointed as Minister for External Territories and Local Government. She retained this position under Zoe Parker, before being promoted into Cabinet on November 26, 2006, as Minister for Industry, Trade and Commerce. Following the defeat of the Parker government, Lucas was made Shadow Minister for Foreign Affairs by new party leader Robin Sales. Lucas had been mentioned as a potential leadership candidate but did not nominate for the position.
Dr. Lucas is unmarried but has two children by her long-time partner, Joshua Stewart.
Ad blocker interference detected!
Wikia is a free-to-use site that makes money from advertising. We have a modified experience for viewers using ad blockers

Wikia is not accessible if you've made further modifications. Remove the custom ad blocker rule(s) and the page will load as expected.