Eusko Itsas Infanteria

Modern Insignia of the EII
Active
1952-
Country
Euskadi
Branch
Eusko Itsas Gudarostea
Type
Marine Division
Size
Three Brigades
Two Battalions
One special ops. company
Divisional units
16,000 professional men and women
Garrison/HQ
Bermeo
Colors
Red & Navy blue
Commanders
Current
commander
Rear Admiral Ander Oñate Garai

The Eusko Itsas Infanteria (EII) is a division sized corps within the Eusko Itsas Gudarostea responsible for providing amphibious warfare from the sea utilizing naval platforms and resources. It is fully integrated into the EIG structure.
The Eusko Itsas Infanteria is an elite corps, highly specialised in amphibious warfare, that is, to project an amphibious force onto a hostile, or potentially hostile, coast. Its ability to embark on a short term notice with (land, air and naval) Navy assets, makes it a unit with a high strategic value. Adding to this a high degree of training, and the capability to deploy swiftly in international waters, results in a potent disuasory force available at a short notice in distant regions.
Organization
Headquarters: (MINF-HQ) Bermeo
1st EII Brigade
2nd EII Brigade
3rd EII Brigade
1st EII Arctic Battalion
2nd EII Arctic Battalion
EII Operazio Berezietarako Taldeak (Special Operations Group)
Divisional Units
Structure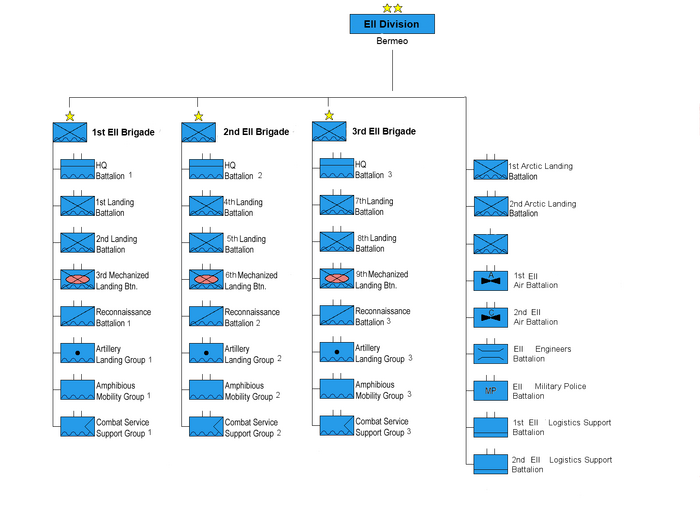 Ad blocker interference detected!
Wikia is a free-to-use site that makes money from advertising. We have a modified experience for viewers using ad blockers

Wikia is not accessible if you've made further modifications. Remove the custom ad blocker rule(s) and the page will load as expected.