FC Olympia
Talk

0
10,419pages on
this wiki
Subsidiaries

NK Olimpija is natrofejniji and most popular club in the Mediterranean, scoring 23 consecutive national championships and 14 won Cups. NK Olimpija colors are green and skorz house guests play in green and white combination. Club founded in 1889, even 31 years ago Ateniona FC. It is well known for what this club is that it was in 2006 as the Champions League and Cup 1991 Cup semi-final when England lost to Manchester United won 3-1 in front of almost 50,000 Antenionu viewers but lost at Old Trafford with even 6-2 . The club plays at sadionu Oazis Terbianzus, which after renovation in 2001 to receive 41,000 spectators. The club is in valsnistvu known local businessman Anton Leinzazusa who bought 51% shares in 2003 and started with a large investment in the club. Club supporters are known by the name ofloan sharkthat they got the colors of the club, known as the major riots that have made the country known as the most problematic naku groups in the country.
The club was founded in 1989 in the city and stadium Antenion j enikao on the coast of the port city and was originally primoa 30,000 spectators. Olympia is the first title won in 1961 and won her first title in the country. It is also known in that it has won six consecutive titles. Titles:1961,1962,1963,1965,1967,1968,1969,1973,1974,1977,1988,1989,1990,1994,1995,1998,2001,2003,2005,2006,2011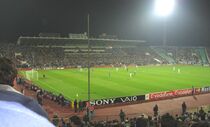 The first European debate club in 1991 when he had reached the Cup semi-final Cup. The first match was played with Anderlecht 1-0 home and away 2-2, eighth-final with Valencia at home 3-0 away 0-2, home quarter-finals with FC Porto 0-1 away 1-4 in the semi-final with FC Koln won 3-1 in Athenion ,and lost in Koln 4-3. FC Olympia paly in final against Manchester United and lose 2-4 on Athenion Olympic Stadium .
he stadium was built in 1921 and received almost 30,000 spectators but was completely in 1961 and was built new in 1961 that he received 50.000 spectators. The stadium had a minor renovation to 2001 but completely renovated in 2001 and 50.000 seats and standing is zamenjno sitting chair with 30.000 and South stands, which was damaged after fan riot was completely replaced by renovating the stadium and the stadium has received three stars that were a minimum of playing European games that the team played in the Champions League in 2006. For the year 2008 match Olympia followed an average of 32,210 viewers which is the .
Supporters
Edit
.As of 90's of last century,
Green
boys are often labeled the most dangerous and most ardent fan groups in the world. According to a survey in 2006, almost 50% of the population of the island sunny cheer of Olympia, in the capital city Atenionu about 55% of people cheering for Olympia, Olympia and the residues of the country has the most fans in the east and central part of the country while the western countries the number is limited only the southwestern part of the island.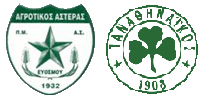 Olympia fans have often been associated with criminal activities in the country and a supporter group leaders were often one of the major criminals in the city and country.
Falling within the first man stepped in green in crime was the first major leader Zidane Denzis fans still in the 70's and 80's. When the Denzis killed in the late eighties there was a major conflict within the fans who will assume the status of leaders. In this conflict the death of two fans, while even three wounded. Internal conflicts have seriously disrupted the functioning of Olympia and the fans for some time in the city was ruled by supporters of Athenion. It was not until the early nineties navijacki internal clashes stopped and fan condition is stabilized over a long period of stable and up to date. Supporters of Olympia are known as the group that was making a big mess on tour in Europe, but none was as serious as the one in 2006 when they made ​​the general unrest in Istanbul which killed more than 20 supporters of Fenerbahce.Friends among the biggest supporters are supporters of the Greek Panathinaikos with which cultivated a large friendly relations since the early nineties.
Brothers Realations with Panathanaikos
Edit
KIn late 80's when they created the first fan groups and supporters Pantenaikosom Olimpija fans are due to similar symbols and Greek fraternity brothers called the soccer or better known asThe Green Brothersandbrothers in faith and color.
European Cup 1984-1985
Edit
Budapest Honvéd 1-1
Olympia 3-0 Budapest Honvéd
Juventus 2-0 Olympia
Olympia 4-1 Juventus
Quaterfinals:
AC Sparta Prague 1-3 Olympia
Olympia 2-0 AC Sparta Prague
Semi Final:
Olympia 3-0 Bordeaux
Bordeaux 2-0 Olympia
Final:
Olympi 3-2 Liverpool
Champions League 1994-1995
Edit
Qualification:
Malmö FF 0–3 FC Olympia
Fc Olympia 5–2 Malmö FF
| Position | Club | PLD | PTS |
| --- | --- | --- | --- |
| 1 | Barcelona | | 15 |
| 2 | Olympia | | 9 |
| 3 | Manchester United | | 9 |
| 4 | Galatasaray | | 4 |
Manchester United 2-0 Olympia
Olympia 2-3 Barcelona
Galatasaray 0-2 Olympia ( Athens Olympic Stadium )
Olympia 2-1 Manchester United
Olympia 1-0 Galatasaray ( Athens Olympic Stadium )
Barcelona 2-1 Olympia
Knockout stage:
Bayern Munich 2-0 Olympia
Olympia 2-0 Bayern Munich(4-5 penalties)
Qualifications Champions league 2003-2004
Edit
Champions League 2003-2004
Edit
Second qualifying round:
Olympia 2-0 HJK Helsinki
HJK Helsinki 0-1 Olympia
Third qualifying round:
Celtic 3-1 Olympia
Olympia 1-0 Celtic
First round:
Dinamo Zagreb 2-1 Olympia
Olympia 2-0 Dinamo Zagreb
Second round:
Olympia 2-1 Dnipro Dnipropetrovsk
Dnipro Dnipropetrovsk 1-1 Olympia
Third round:
Deportivo La Coruña 2-0 Olympia
Olympia 2-0 Deportivo La Coruña(5-4)
| Position | Club | PLD | PTS |
| --- | --- | --- | --- |
| 1 | Monaco | | 16 |
| 2 | PSV Eindhoven | | 11 |
| 3 | FC Olympia | | 6 |
| 4 | AEK Athens | | 2 |

Olympia 0-2 Monaco
AEK Athens 2–2 FC Olympia
Fc Olympia 3–0 PSV Eindhoven
Monaco 3-1 Olympia
Fc Olympia 1–0 AEK Athens
PSV Eindhoven 3-0 FC Olympia
Champions League 2005-2006
Edit
Qualification:
Malmö FF 0–3 FC Olympia
Fc Olympia 5–2 Malmö FF
| Position | Club | PLD | PTS |
| --- | --- | --- | --- |
| 1 | Arsenal | | 16 |
| 2 | Ajax | | 9 |
| 3 | FC Olympia | | 6 |
| 4 | Sparta Prague | | 2 |

Fc Olympia 0–2 Arsenal
Sparta Prague 2–4 FC Olympia
Ajax 3-0 FC Olympia
Fc Olympia 3–2 Sparta Prague
Fc Olympia 1–4 Ajax
Arsenal 3-0 FC Olympia
Round of 32
Edit
Fc Olympia 3-1 Hamburg
Hamburg 2-0 FC Olympia
Europe League 2010-2011
Edit
Qualifications:
Odense 1-0 FC Olympia
FC Olympia 3-0 Odense
FC Olympia 2-0 Motherwell
Motherwell 3-1 FC Olympia
FC Olympia 2-0 BATE
AZ 1-1 FC Olympia
FC Olympia 0-2 Dynamo Kyiv
BATE 0-3 FC Olympia
Dynamo Kyiv 1-0 FC Olympia
FC Olympia 3-0 AZ

FC Olympia 4-0 PSG
PSG 1-0 FC Olympia
S.L Benfica 2-1 FC Olympia
FC Olympia 3-1 S.L Benfica
FC Olympia 2-0 PSV Eindohoven
PSV Eindohoven 1-1 FC Olympia
Braga 2-1 FC Olympia
FC Olympia 1-1 Braga
Champions League
Edit
Qualifications:
FC Olympia 2-1 BATE Borisov
BATE Borisov 0-1 FC Olympia
Sturm Graz 1-1 FC Olympia
FC Olympia 3-0 Sturm Graz
First team
Edit
Former players
Edit
Antonis Petropoulos move to Manchester United for €15 million.
Marello Lusta move to AC Milan for €8 million.