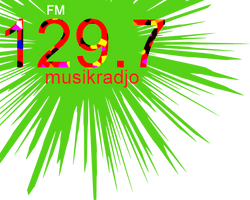 FM129.7
, often known simply as
FM
, is a Westlandic music radio station. It is the largest privately owned radio station in
Westland
, one of only few, broadcasting nationally on 129.7 MHz, with a daily listenership to rival
Radjo 2
. FM129.7 caters to younger generations, specialising in Contemporary pop, J-pop and Alternative rock, aswell as comedy shows and music introducing. It also broadcasts the Westlandic Hot 100 weekly on Sundays.
Schedule
Weekdays
0400-0630 Early Breakfast
0630-0900 Breakfast Show 
0900-1200 Mornings 
1200-1500 Afernoons
1500-1900 Evenings
1900-2200 Late Evenings
2200-0100 Rock Show 
0100-0400 Introducing 
Weekends
0700-1000 Breakfast 
1000-1300 Daytime
1300-1600 Afternoons
1600-1800 Evenings
1800-2300 Club Anthems
Sundays; 1300-1600 Westland Hot 100
Music
The radio station mainly plays contemporary music from the pop, rock, and dance genres from within Westland, the United Kingdom and the rest of Europe, aswell as a high level of J-pop due to its popularity in Westland. 
During the day the station broadcasts a variety of music, mostly pop and alternative centred, however in the evenings and late night, music is more specialised, with the Rock Show which primarily broadcasts rock and metal and Club Anthems which broadcasts techno, trance and electronica. 
Ad blocker interference detected!
Wikia is a free-to-use site that makes money from advertising. We have a modified experience for viewers using ad blockers

Wikia is not accessible if you've made further modifications. Remove the custom ad blocker rule(s) and the page will load as expected.