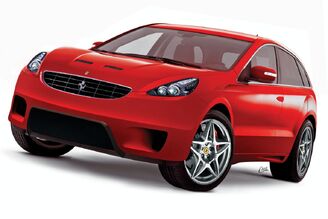 The Ferrari 350 Alpino is an crossover car being produced by Ferrari. The original 350 was first introduced in 2006 featuring an internal-combustion gasoline engine. In 2008 this engine was by a BG100 (biofuel) engine (due to the Green Vehicles Act passed in 2007. The car's engine gives an impressive 375 HP and a 0-60 acceleration of 5.3 seconds.
Ad blocker interference detected!
Wikia is a free-to-use site that makes money from advertising. We have a modified experience for viewers using ad blockers

Wikia is not accessible if you've made further modifications. Remove the custom ad blocker rule(s) and the page will load as expected.