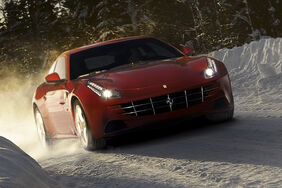 The Ferrari FF (FF meaning "Ferrari Four", for four seats and four-wheel drive) is a grand tourer built by Ferrari (KEU).
History
Work on the FF began in 2005, mainly based upon rumors that Porsche and Aston Martin were building four seaters.
Variants
The FF is available in a 2 door, 4 seat "hot-hatch" version or as a 4-door sedan. The basic FF features a V6 engine that produces 380 HP. The "racing" version features a V8 that does 560 HP.
Specifications
FF
Engine: Ferrari V6 (BG100)
Power: 380 HP
0-60 MPH: 5.0 secs/5.3 secs (4-door)
Top Speed: 155 MPH limited
Unit price: L. 120,000/L. 145,000 (est.)
FF Racing
Engine: Ferrari V8 (BG100)
Power: 560 HP
0-60 MPH: 4.2 secs/4.4 secs (4-door)
Top Speed: 188 MPH
Unit price: L. 150,000/L. 175,000 (est.)
Ad blocker interference detected!
Wikia is a free-to-use site that makes money from advertising. We have a modified experience for viewers using ad blockers

Wikia is not accessible if you've made further modifications. Remove the custom ad blocker rule(s) and the page will load as expected.