Suomen tasavalta
Official Languages
Finnish
Other Languages
Swedish, German, Curonian
Capital
Biggest city
Helsinki
Helsinki
Government
Republic
President
Tarja Halonen
Prime Minister
Matti Vanhanen
Area
224 133 km²
Population
~47 928 000
Independence
December 6th, 1917
Currency
Ugrian mark
The Republic of Finland (Finnish: Suomen tasavalta) is a country in eastern Europe, bounded by the Baltic Sea to the west, the Gulf of Finland to the southwest and the Gulf of Bothnia to the northwest. Finland has land frontiers with West Lapland, East Lapland, Republic of White Sea and Karelia, all of which are also part of Ugrian Union.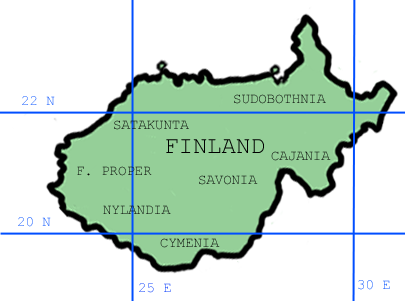 Geography
Finland is mostly flat. It's coordinates are 20-24 degrees north and 23-31 degrees east.
The climate is considerably wet subtropical. Rains come mostly in summer.
Helsinki, 20°N 24°E, January +19°C, July +24°C, rainfall 903 mm/year
Kuopio, 21°N 27°E, January +16°C, July +25°C, rainfall 798 mm/year
Oulu, 23°N 28°E, January +17°C, July +23°C, rainfall 583 mm/year
Kuusamo, 22°N 30°E, January +16°C, July +24°C, rainfall 1039 mm/year
Agriculture
The base of Finnish agriculture consists of wheat, except for Sudobothnia, for which it is rice.
Other products include:
Sugar from canes (Eastern Sudobothnia)
Tea (Eastern Sudobothnia)
Cotton (Inner Finland, Satakunta)
Citrus fruits (whole Finland)
Bananas (whole Finland, minimally)
Coffee (Savonia, Cymenia, Eastern Sudobothnia, minimally)
Resources
Finland produces:
1% of worlds phosphates
0.7% of worlds oil
See also: Energy production in Finland
Demographics
As of 2005, Finland has a population of approximately 47,928,000.
Languages (immigrant languages in italic)
Finnish: 88.07%
Swedish: 2.14%
Curonian: 1.63%
German: 1.53%
Danish: 1.01%
Russian: 0.88%
French: 0.86%
Estonian: 0.70%
Ramoan: 0.69%
English: 0.62%
other: 1.87%
Transportation
See lists of railways, highways and airports in Finland.
Also: postal codes of Finland
Politics
Finland has a semi-presidential system with Parliamentarism. The parliament of Finland is called Eduskunta and it has 350 members. Presidential elections are every 6 years, parliament and municipal councils are elected every 4 years.
The parliament is the highest legislative body in Finland. Finland as a state of the Ugrian Union exercises full rights to internal affairs, except those related to interstate commerce, money unit and free mobility of people inside the union.
Municipal councils are the legislative bodies on municipal level. The size of such councils are regulated by law to be the cube root of the municipal population.
Finnish parliamentary election, 2007 Finnish municipal election, 2008
Provinces
Ad blocker interference detected!
Wikia is a free-to-use site that makes money from advertising. We have a modified experience for viewers using ad blockers

Wikia is not accessible if you've made further modifications. Remove the custom ad blocker rule(s) and the page will load as expected.