The Hon. Francine Jennifer McKinnon (b. September 2, 1947), is the immediate former Governor of Bradmarch, the chief executive of that state.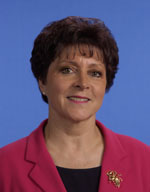 McKinnon attended state schools and then the University of Bradmarch, graduating in 1970 with a masters degree in economics. She taught economic theory at several universities until 1986, when at the age of just 38 she was made Chair of the Economics Department at the University of Mainland. She continued in this capacity until 1997, when she ran for Governor for the first time, losing to Ryan Stone. She quit her position at UM and returned full-time to Bradmarch, accepting a place in 1998 as the state's Chief Financial Officer. In 2000, she defeated Governor Stone in her second bid and was elected Governor. In 2004, she was re-elected without serious challenge. Governor McKinnon has been a popular governor but has one of the lowest profiles of all state governors. Her 'moment in the sun' came in February 2004, when a no-confidence motion against the Tory government of Kyle Jonas succeeded, prompting McKinnon to appoint LDP leader Canderwell as Chief Minister, a decision criticised in some circles. On June 1, 2006, Governor McKinnon announced she was stepping down. Her husband had been diagnosed with prostate cancer, and McKinnon herself had been suffering from depression for some time, which she had kept hidden from the public. The Chief Justice of Bradmarch's Supreme Court, Richard Fraser, will serve out the remainder of McKinnon's term.
Ad blocker interference detected!
Wikia is a free-to-use site that makes money from advertising. We have a modified experience for viewers using ad blockers

Wikia is not accessible if you've made further modifications. Remove the custom ad blocker rule(s) and the page will load as expected.