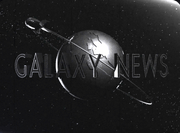 Galaxy News Network (GNN) is the largest Media network in the United Commonwealths of America.
It has a television channel and a radio station which is centered around Washington D.C. It offers News through Television News Reels and Radio.
Television
The Televsion Channel broadcasts News, Entertainment and Music Shows. The television Channel began at 6:30 AM with the National Anthem (Star Spangled Banner), and the morning news and the channel ends broadcasting at 11:00PM after the evening news concluding with the National Anthem, and a test card is broadcast between those hours.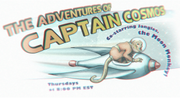 Named Broadcast Shows
Galaxy News (Daily, Morning 7:00AM - 8:00AM, Evening 10:00PM-10:30PM)
The Adventures of Captain Cosmos (Thursdays 8:00PM)
Radio
Galaxy News Radio is a radio station owned by GNN based in Washington, D.C and broadcasting to other cities in the US. It broadcasts News, Music and Radio Comedies and Dramas. It broadcasts mainstream music such as Frank Sinartra, Kay Kyser, The Ink Spots and others.
Mojave Music Radio is a subsidiary of the Galaxy News Radio Network based in Las Vegas, Nevada and serving the Southwest Commonwealth. It broadcasts predominantly country western music and news.
Ad blocker interference detected!
Wikia is a free-to-use site that makes money from advertising. We have a modified experience for viewers using ad blockers

Wikia is not accessible if you've made further modifications. Remove the custom ad blocker rule(s) and the page will load as expected.