Ganesh are a Georgeland rock band formed in 2000. The band's musical style is heavily influenced by Indian music, and all the band members are of Indian ethnicity.
The band's original line-up was: Jimi Prada (vocals, guitar), Dhani Kumar (guitar/sitar), Nathan Vishwaran (bass) and Dasari 'Das' Singh (drums). In 2004, Singh quit the band due to family reasons, and was replaced by Prada's brother, Eddie.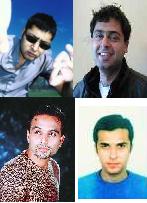 The band's early days were marked by a reluctance from their own community and the wider community to accept them, as they were going against a considerable stereotype. All four had performed in bands before, but the concept of an all-Indian rock band was difficult for record labels to accept. They persevered, and added a sitar sound to make their music more unique and distinctive. In 2001 the single Someone Like You had limited chart success, and a self-titled EP was released later that year.
In 2003, the band recieved mainstream success with the airing of their single Shine on national radio. The quirky, idiosyncratic sound made them a popular act, and their 2003 album, Bollywood Lies, quickly became a best-seller, and charted well in the UK.
Following the death of George Harrison in 2003, Ganesh recorded a cover of his song While My Guitar Gently Weeps, music and lyrics altered subtly to While My Sitar Gently Weeps. The song was a smash in Georgeland and Britain, and cemented Ganesh's musical credibility.
In mid-2004, while pre-production was underway of the group's second album, Singh announced he was leaving the band for 'family reasons'. The album was put on hold while the band searched for a new drummer - in September they announced frontman Prada's brother, Eddie, would fill Singh's role.
In April 2005, the second album, Namaste was released on the back of the single Give Me Time. Namaste was as big a success as its predecessor. In July, Ganesh embarked on a tour of Europe and Asia, beginning with participation in Bob Geldof's Live 8 event in London.
The band's third album, Kashmir, was delayed from its initial planned release in September 2007 to January 2008, after tensions within the band let to a hiatus in recording. With the album's release, Ganesh embarked upon a national tour and followed it with a tour of the United States and Canada, after the album's second single, Do What You Feel, became a hit on the Billboard charts. After the tour ended, the band released a DVD and CD of their concert in Santa Christina, entitled Under the Dome. This was followed by a five-month hiatus in which the band concentrated on their individual songwriting.
The band's fourth studio album, Quit, was released to great fanfare in October 2009. The band began to tour, with former drummer Singh occasionally substituting for Eddie Prada.
Ad blocker interference detected!
Wikia is a free-to-use site that makes money from advertising. We have a modified experience for viewers using ad blockers

Wikia is not accessible if you've made further modifications. Remove the custom ad blocker rule(s) and the page will load as expected.